8.


South African Wine Legend: John Loubser


This article originally appeared on Wines of South Africa

"We spend so much time looking for fossils," says Cap Classique specialist John Loubser, unpacking an assortment of rocks. We're tucked away in a corner at Steenberg, overlooking the cellar he spent 15 years in as cellar master and general manager. He left in 2017 to devote himself to Silverthorn full-time, his family's boutique estate in Robertson.
With bright eyes he passes over a flat stone – there is no mistaking the fan-like shapes of a dozen seashells pressed into the rock, a fossil from the antediluvian ocean that once covered Robertson. It's a terrestrial reminder that it's the only region in South Africa with significant limestone deposits, much like the kimmeridgian soils of Champagne, making it our holy ground for the production of sparkling wine.
"I was annoyed there are no dinosaur fossils," John laments. "The reason they aren't is that the soils in Robertson are 400-million years old, which means they pre-date them."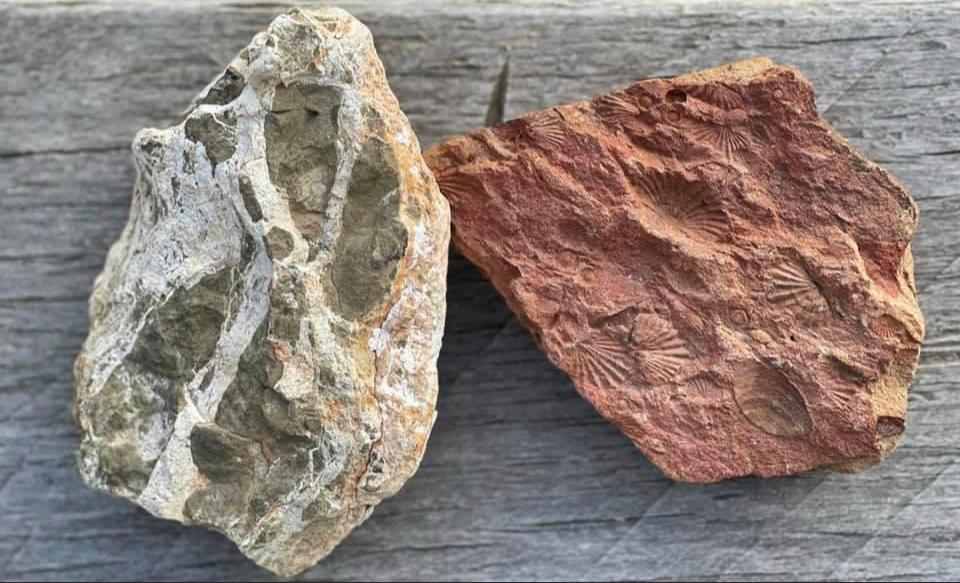 "Now look at this," he says passing over a smaller rock. More evidence of the ancient ocean with its millennia-old imprint of a small wave cresting. "We found this trace fossil behind our cellar, we think it's a pectoral fin."
If the sky could dream, would it

dream of dragons?
This obsession with fossils led him to naming his new bubbly River Dragon NV, 'if we can't have dinosaurs, we can have dragons!' John hands me a glass of it and explains he named it after the legend of draco Africanus, who was said to skywrite with smoke.
In a trailblazing move he made the River Dragon from 38-year-old vine colombard, wild fermented in acacia barrels
(a nod to Silverthorn…), then 12 months on the lees.
"It has this incredible acidity,' he enthuses. And it does, rapier quick right across the palate, a steel rod for the fruit to hang from: pear, bergamot, green mango, guava leaf. Refreshing and full of life. Much like its maker.

"Most nights I share a bottle of bubbly with my wife Karen," he shares. The devoted couple live on the farm. Their children Faine and Tivon are in their early twenties, Faine is a UCT graduate in Film & Media as well as free diver; in fact she worked on Oscar-winning documentary My Octopus Teacher, while son Tivon is studying a Bachelor of Business Science.

When not making bubbles, you'll find John in nature, practising longbow archery, doing carpentry using antique tools, or spending time with his beloved Rottweilers.

In 2019 the Loubsers built a specialised Cap Classique cellar, which is situated just 40 metres away from a river, which is home to Cape clawless otters. The first vintage he made on the farm was in 2020, prior to that he made Silverthorn at Steenberg, The Green Man's inaugural vintage was in 2004, officially launching the brand in 2006.

Wine has been a constant theme in his life. His father was a Windhoek hotelier who instilled the passion in him. "I grew up among wine pallets."

"As a young kid I went with him many times to the Nederburg Auction, I think I was six the first time."
He was schooled in the Cape, boarding at Bishops. After matriculating he studied architecture. Which he says he did not complete due to 'lack of mental stimulation'. This was followed by two years of military service.
It was then back to the wild seas and sand dunes of his home, where he spent two years diving for diamonds off Namibia's Skeleton Coast. Somewhere along the way he met Karen in the Cape at a beach party. "She told me later that she decided that day she was going to marry me."
It was Karen's family who in 1976 purchased the farm they now call home; after they met she took him there to meet them. John says it occurred to him then that he'd 'better go study winemaking'.

But before wine got its hooks in the pair spent a year backpacking across Europe. Until finally fate had its way and at the age of 25 he enrolled at Elsenburg, graduating as the Dux student.

Very quickly he landed a plum position as winemaker for Môreson. Then wanting to be closer to home he did a stint at de Wetshof in Robertson followed by a couple of years working at Graham Beck's Robertson cellar with Pieter Ferreira.

In 2001 he became the cellar master at Steenberg. He won the prestigious 'Dinners Club Wine Maker of the Year' in 2003 and has been a member of the prestigious Cape Winemakers Guild since December 2004.



The only wine you can hear

"You experience bubbly with all of your senses – it's world's apart from any other wine." He holds up his glass to his ear, I mirror him, appreciating the fizz, crackle and pop. "It's the only wine you can actually hear."

"There's another reason why people are drawn to champagne – why it's been used for celebrations through the ages. When you pop a cork negative ions are released."


These invisible molecules (which have gained or lost an electrical charge) are found where there are moving liquids under pressure –like the ocean or a waterfall – and are said to promote endorphins and relieve stress.

"Watch for the wisp," John says easing the cork out of The Genie, a plume of smoke slides out; he trails his finger through it, doing his own version of dragon skywriting. "Those are the negative ions."

The Genie released into my glass is light, pearlescent pink. This is no tannic Australian sparkling shiraz; light-footed and popping with raspberries and cherries, with a hint of spice. He says he handles it very gently in the cellar, whole-bunches, soft pressing, so much so that the resulting wine is white; he achieves the final colour with dosage.

Also in the line-up is the Jewel Box 2017 (a cuvée of chardonnay and pinot noir), which scored an impressive 96-points in the Tim Atkin MW 2021 South Africa Special Report. His other Cap Classiques also garnered excellent scores.

The Jewel Box spent 45 months on the lees and is richly autolytic for it, all those toasty, nutty flavours, creamy, beautifully so, then super dry on the palate with a savoury finish. Delicious.


Elegant, fine and long, tasting the wine is a bit like walking through a sun-dappled forest. Prismatic and peaceful.

"At Silverthorn we try to do everything as sustainable and organic as possible, from cover crops to interplanting," he elaborates. "We're trying to create happy vineyards.

"It's been a long dream to get here and we have travelled many paths, but the one thing we've always had was patience.

"We knew it would all work out, when the time was right."

Time and patience – two of the most important words in the making of fine Cap Classique.︎