About

A collaborative project exploring the dimensions of food and wine pairing with one of South Africa's top chefs, Chef Franck Dangereux. This series takes place at Franck's restaurant in Noordhoek. The format is simple, also a Noordhoek local, wine writer Malu Lambert drops in at Franck where they taste some wines, over the next few days Franck's brain ticks over… and then they get together to test out some recipes, which are beautifully shot by photographer Keli van der Weijde.



Franck Dangereux, chef


Chef Franck Dangereux was born in Cannes and his early years were surrounded by flavour. "My earliest memories are strongly connected to food… My gran who lived in Nice cooked delicious food for us – rabbit with red wine, cep mushrooms and prunes. Asparagus with a vinegary, creamy sauce, strawberries with homemade custard." At 15 he started at the Nice Hotel School and then trained with Roger Verge of Moulin de Mougins. After stints at two Michelin 3-star restaurants in Paris, Franck travelled to St Bart in the Caribbean where he started a laid back restaurant at the top of a hill. Further travels lured him to Cape Town where after working with Franck Swainston at Uitsig, he started La Colombe where he was placed 28th on the list of the world's 50 best restaurants.

Malu Lambert, wine writer


Malu won the title of the Mont Blanc Emerging Wine Writer of the Year at the Louis Roederer International Wine Writers' Awards 2019. She also won the Veritas Young Wine Writer in 2015. She writes for numerous South African titles. Internationally, she has also written for Jancis Robinson, The Buyer & Decanter and Imbibe. Notably, she has just been inducted as a taster on Platter's by Diners Club South African Wine Guide, South Africa's most definitive and respected guide to wine. Malu is also currently a WSET Diploma student and loves nothing more than to geek-out about wine. She sits on various judging panels and is a graduate of the Michael Fridjhon Wine Judging Academy. She is also the author of this site.

Keli van der Weijde, photographer


Keli van der Weijde is a photographer based in Cape Town. As an extraordinary visual storyteller she excels in capturing moments. She prefers to work on location with natural light, which comes from her reverence for the old masters. Time spent in the darkroom has left a knowledge and passion for black and white analog photography. Keli marries commercial sensibility with artistic vision and finds her inspiration in people, culture, traveling, food and art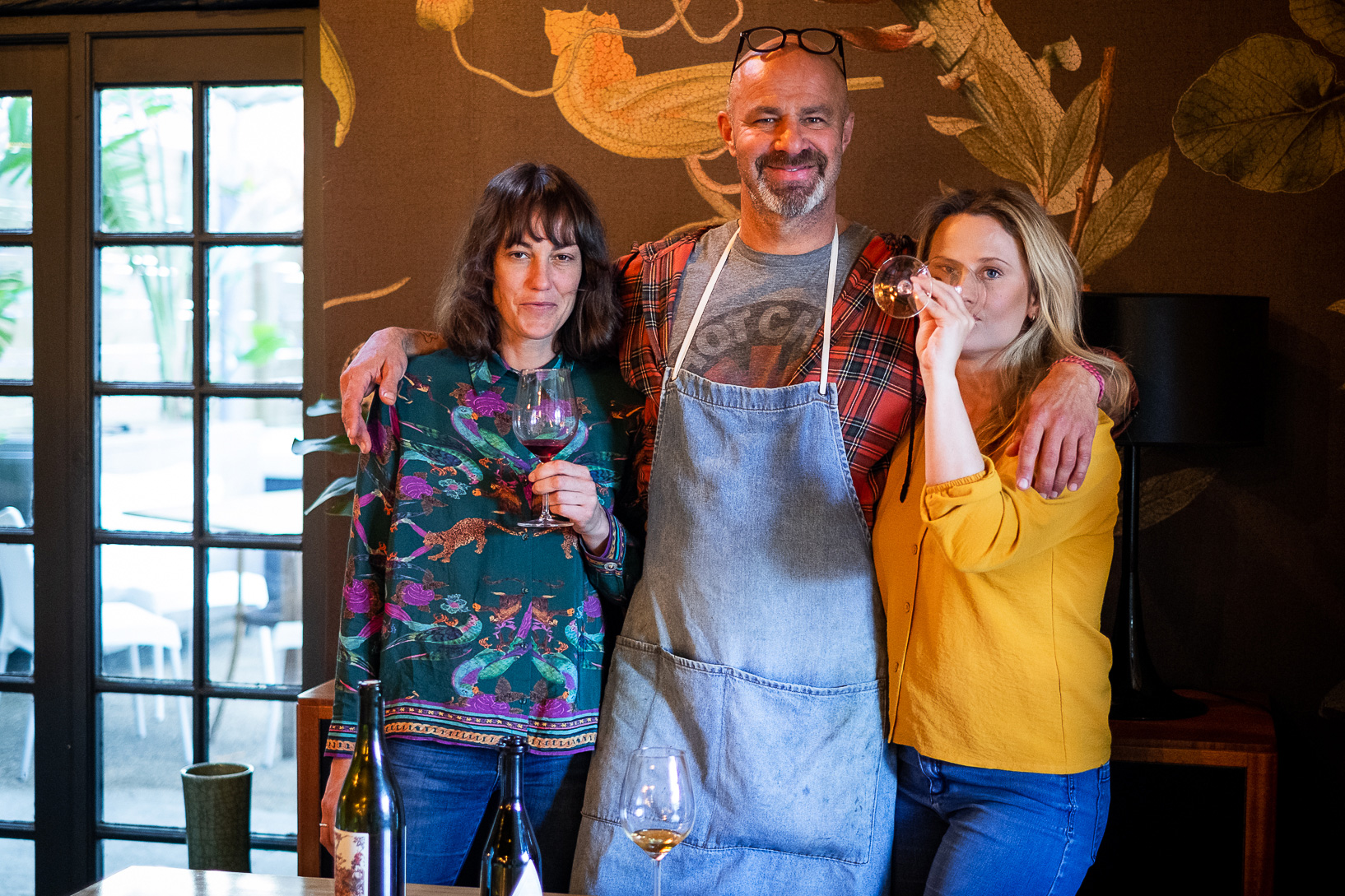 Franck & Wine, Volume 1
A hedonistic afternoon pairing Saurwein Om Pinot Noir 2019, Kanonkop Paul Sauer 2017 and Mullineux Olerasay 2º with dishes specially created by Chef Franck.
Starter
Saurwein Om Pinot Noir 2019
Shiitake, vanilla & asiago risotto with baby wild rocket

The lighter-bodied twin of Jessica Saurwein's pinots (the Saurwein Nom Pinot noir 2019 is the yin to its yang), you get an immediate sense of this wine's origins. Hailing from 'Place of the Gods Farm' in the Hemel-en-Aarde Ridge, Hermanus, it's a dryland vineyard situated just 12km from the sea at 300 m above sea-level.

Shares Jessica: "The name 'Om' symbolises the concept of universal creation. This word is also synonymous with peace. The vineyard is situated in a beautiful and peaceful place close to my heart. May this wine carry forward the peace that its place of creation inspires."

Freshness defines this wine; scented with rosewater perfume and red sour cherries. Strawberry-toned verve and an earthy note adds depth to the palate – one that's as pure and precise as the gods intended, a line of cleansing acid and glossy tannins complete this supple, elegant ride.

A touch of smoke and sumac spice on the finish marry harmoniously with the earthy flavours of the shiitake in the risotto, the vanilla and truffle perfume buoying up the red fruit – but this pairing is also about the texture; the creamy rice against the lean, nervy pinot sail along together and reveal new flavours. That purity cutting away the richness of the dish like a scalpel.


Beef fillet with Pissaladiére
The iconic Kanonkop Paul Sauer continues to impress both locally and internationally. The 2015 vintage famously scored 100-points by Tim Atkin. The 2017 continues the perfection of this Bordeaux-style blend, so loved for its undeniable South African provenance, but also it's ability to stand head and shoulders with the world's most sought-after wines.
2017, hailed as an excellent SA vintage, is led by cabernet sauvignon and seasoned with 17% cabernet franc as well as 7% merlot. The wine spent 24 months in new French oak.
In the presence of nobility, slowly out of the glass a crescendo of flavours emerge, heralded by deep notes of cassis, sweet red cherries and juicy mulberries; then hits of vibrant garrigue and a slate-graphite undertone with a whisper of vanilla and cigar-box. The palate is just as unfurling, encased in a defined structure its supple skeleton of oak framing a core of pure fruit. Its racy, lemony acid tempers the grippy but polished tannins. The finish is dry and serious. Coiled and intense, this wine will age beautifully across the decades.
There's salinity, a mineral edge here too; mirroring the olive dotted pissaladiére in both savourniess as well as the oak-influence against the flaky, buttered pastry. The melt-in-your-mouth beef fillet, its iodine and umami flavour profile marches right along with those flavours in the wine. Pure and refreshing, it's easy to eat the whole plate, and drink the bottle too.
Saffron pineapple with gorgonzola beignet
The Olerasay is born from an intriguing straw wine solera system. The Mullineux's classic straw wine in their range is made from parcels of-old vine chenin blanc, and each vintage, since 2008, they hold back a few barrel and blend them together, refreshing the solera each year with the new vintages.
Olerasay 2º is from barrels that have been fractionally blended from vintages 2008 through to 2019 (in all, 12 vintages). They have only bottled a portion of the solera, and have kept the rest back with the plan of continuing the system for years to come.
This solera technique produces an intense, complex wine. The acidity also concentrates through the years, becoming even more vibrant, just the thing to elevate and balance the sweetness of the wine.
Wine critic Neal Martin of Vinous hailed this wine as 'perfect' giving it 100-point score, the first South African wine to receive this incredible honour from him.
Waxy apples, pears, dried apricot and sun-kissed hay bounce off a nutty, caramelised base. On the palate creamy peaches, tinned pineapple, tangy apricot, candied orange peel, marmalade on toast, with a savoury, nutty, honeyed undertone. The keen, driven acidity pulls all those flavours right across the mouth and into a seemingly endless finish.
When it comes to pairing, think fructose not sucrose, and that's just what Franck did with saffron pineapple complementing notes of tropical fruit and spice, the creamy Gorgonzola paired with that razor-like acid is nothing short of perfection.